Our Staff
Dan Jordan
Dan has been in the printing industry since his late teens, starting in the warehouse of a local printer. He worked with several local printers, working his way up through the system into sales, and he loves it. He enjoys meeting new people, and developing friendships and business relationships.
On a personal side, Dan has been married for 27 years, and has 9 children. He spends the majority of his free time doing activities with his Boy Scout Troop, Youth/H.S. Football, along with his dirt bike racing (he's an active board member with the Oregon Motorcycle Riders Association).
Elizabeth Saar Hunnicutt
Elizabeth joined the print the industry in 1993 as a designer, typesetter, and accounting manager. She has been the Director of the Graphics Department, as well as the CFO since the inception of Millennium Graphics. She enjoys the accounting aspect of the business, and enjoys helping customer develop and maintain their visual identity.
She and her husband Curtis live in Aloha as empty nesters now, with the exception of their two dogs and two cats.
Earl Green
Earl came on board in 2001 as a sales representative. He has an extensive background in sales, but has learned the in's and out's of the print industry well. He enjoys meeting new people and helping them find solutions to their marketing needs.
On a personal side, Earl enjoys spending most of his free time at the race track. He races at PIR, and the new track in Eastern Oregon - ORP. He also likes to adventure down to California's raceways when time allows.

Jan Jordan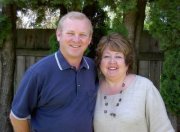 Jan has been working in typesetting for over 30 years now. She is the central customer service representative for the company, and enjoys the relationships she's developed with our customers.
On a personal side, Jan spends much of her free time doing service work for her Church. She gets to continue her creativity and service work there - but her favorite thing to do is hugging grand kids and sewing fun things for them. They are her pride and joy.
top